Easily Create Contacts in Liscio from Email
When you receive an email in Liscio, the Liscio icon appears next to anyone who is already a Contact or Firm User in Liscio.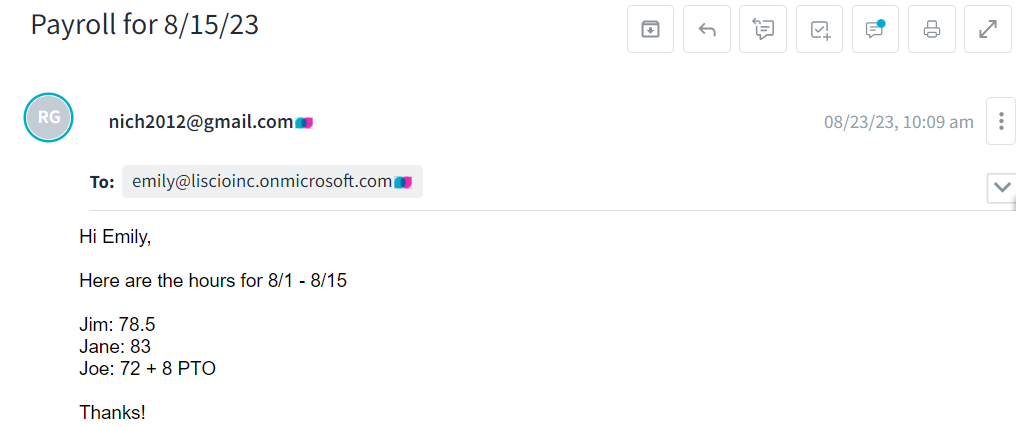 If the email address is not related to an existing user, you can easily create a Lisico Contact:

Click the plus (+) icon next to the email.





You're given 2 options to choose from:


Create Contact/Account - Create a new contact or account with their email address.

Add email to Existing Contact - Update an existing Contact's secondary email address.

Contact Us
Related Articles

Email Integration FAQs

What appears in Primary Email inbox in Liscio? Liscio will display your Primary (Gmail) and Focused (Outlook) tabs on the email page. Gmail and Outlook already filter out unnecessary items from your inbox, and we'll keep that intact. If you ever need ...

How to Set Up Email Integration (Outlook 365 & Gmail Integration)

Cut back on all the noise while creating visibility across the firm with the Liscio Email Integration. View and respond to client emails inside Liscio, automatically and manually add client emails to Contacts and Accounts, bridge the adoption gap for ...

How to Create a Contact

There are two ways to create a Contact: Method 1: Click +Add New in the upper-left of the screen. Click Contact. Fill out the pertinent information. Scroll to the bottom and click Create Contact. Method 2: Click on the Contacts page on the left-hand ...

Contacts Overview

Contacts are individuals; they are your firm's clients. One Contact can be associated with multiple Accounts. For example, Jane Doe is a Contact and she is associated with (or has relationships with) her Flower Business and her 1040 Tax Returns. At ...

'Contact Email Already Exists' Error

If you are creating a contact or an employee in Liscio and receive the error 'Contact Email Already Exists' it is likely there is another Contact in your platform that is assigned to that email. Liscio requires a unique email address for each ...