How to Reset a Contact's MFA
If a client is having issues logging in with Multi-Factor Authentication (MFA), there are two ways you can help them get logged into Liscio.

Using Single Sign-On with Google or Microsoft 365 (Office 365)

Clients can get logged in if they have a Google or Microsoft 365 email. They just need to sign in once, then be able to reset or disable MFA.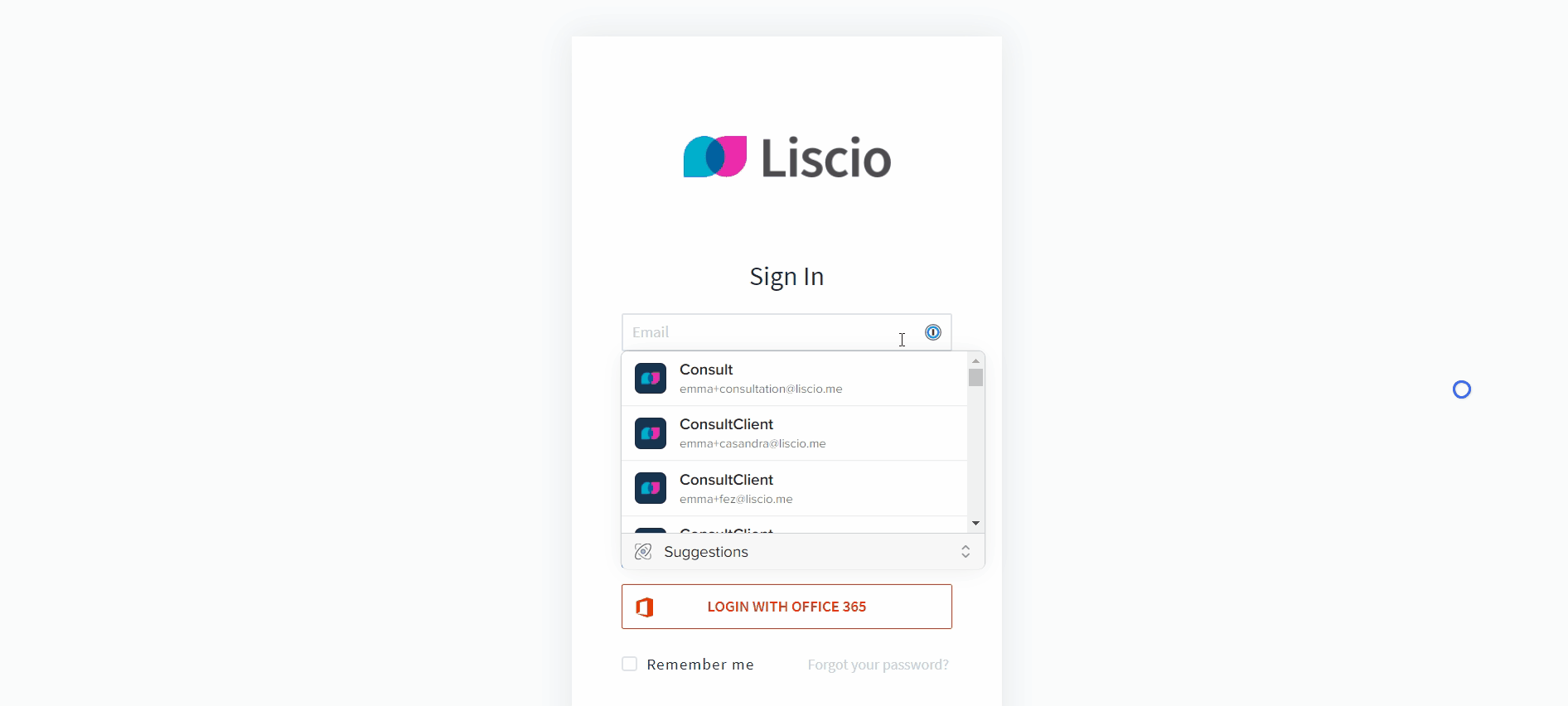 If they have an email from a different provider, go to the next method.

Click the Contacts page and search for the Contact.

Check the Accounts tab and make a note of the Accounts the Contact is tied to, the relationship type, and if they are an Account Owner. You will have to reconnect all Accounts at the end.


Check the Tasks tab. Any Tasks that are Open or Pending Review will be closed when the Contact is archived. You must re-open the tasks after reactivating the Contact record.


Go to the Overview, click the ellipses (three dots) in the upper-right, and select Archive Contact.

Click Proceed.

Click Reactivate contact in the upper-right.

Go to the Account tab and reconnect Accounts. Ensure to assign the correct Relationship type and add as Account Owner if necessary.

On the Overview tab, click the ellipses (three dots) in the upper-right and select Send Invite.

Go back to the Tasks tab, locate the Open and Pending Review Tasks that were closed and re-open all appropriate Tasks. The 'Last Activity At' column will help indicate which tasks were just closed.
Note: Pending Review tasks will move to Open when the task is re-opened.


The client will receive a Liscio invite and must create a new password.



When the client is in their Liscio Account they

MUST

go to their Security Settings and disable MFA.


After disabling MFA, the client can enable again.
Contact Us
Related Articles

How to Reset Multi-Factor Authentication (MFA)

If you're reading this, it means you're stuck on Enter Passcode on the Liscio Login Page and have no way of getting the passcode (Multi-Factor Authentication) for your Google Authenticator App. Before you reset Multi-Factor Authentication, you may ...

Multi-Factor Authentication Overview

Multi-Factor Authentication (MFA) is a security system that requires an additional method of verifying a user's login credentials. It is a critical step in improving your cybersecurity and securing your data. A large majority of data breaches occur ...

Multi-Factor Authentication Overview

Multi-Factor Authentication (MFA) is a security system that requires an additional method of verifying a user's login credentials. It is a critical step in improving your cybersecurity and securing your data. A large majority of data breaches occur ...

How to Sign In with Multi-Factor Authentication

Signing in on computer: Navigate to your Liscio login page. Enter your email address and password. Click Submit. Navigate to Google Authenticator on your phone to find the generated code. Enter Passcode. Click Verify Code. Signing in on Mobile App: ...

How to Disable Multi-Factor Authentication

In Liscio, click on your name (Profile Settings) on the left-hand side of the screen. Under Security Settings, click Manage. Under Status, click Disable. Related article: How to Enable Multi-Factor Authentication