Liscio Corp vs. Your Firm's Liscio Account

What is Liscio Corp?
This is the first Liscio platform you are invited into and asked to sign your agreement with us.

You'll continue to use Liscio Corp to message and upload client data/logo files to your Liscio Account Manager.

You can easily know you're in Liscio Corp by referring to the web address and seeing https://corp.liscio.me.

You are viewing Liscio as a client of ours. You can see exactly how your client's will interact with Liscio when they are in your firm's account.
Once your firm's Liscio account is ready, you'll receive a new activation email. You'll use the same email but create a new password. Going forward you'll use the same email and password to log in to both Liscio Corp and your firm's Liscio account.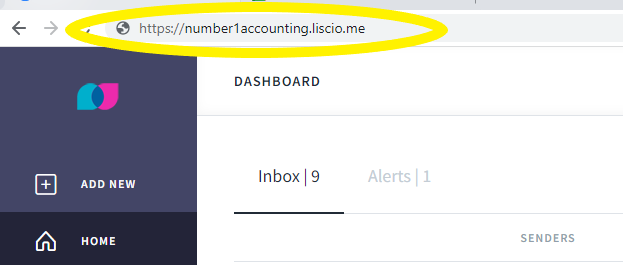 Your Liscio Account will have your firm's unique URL, as seen in the above example.

You will invite your clients and employees into your firm's Liscio account.

You will be in your firm's Liscio account 99% of the time, working with your team and clients. You will only switch over to Liscio Corp to interact with your Liscio Account Manager.

Contact Us
Related Articles

Liscio Vault

Liscio Vault offers users the ability to attach a file already existing in Liscio to a message, Task, or eDoc. When attaching a file, click Liscio Vault. Use the filter to search for a specific file. Check the box to the left of the file(s) you wish ...

Liscio for Outlook

Liscio integrates with Outlook! ​ With Liscio for Outlook, you can save time by: Responding to emails via Liscio. Turning an email into a task for your client, yourself, or your team. Sending a Zoom meeting invite from an email. Creating an internal ...

Account Owner

Clients can be designated as Account Owners by their Firm Administrator. Account Owners have viewing and editing privileges that non-Account Owners do not have. This includes: Overview of Account information (Note: Client Service Teams will be ...

Account Rating and How to Add it

In Liscio, you can rate your clients using the Account Rating feature. This is for internal use only, so your clients will not see these ratings. One-star clients may generally need more assistance or attention. Five-star clients are generally easy ...

Machine Learning: Auto-Tagging in Liscio Dispatch

Liscio Dispatch now includes Machine Learning! What It Is: Our goal in introducing Machine Learning is to create a seamless experience for you and your team. Whenever you upload a file to Liscio through Liscio Dispatch, our Machine Learning ...