Please note that some web browsers may not play well with Adobe. We recommend using Google Chrome or Firefox when electronically signing.
1. Log into Liscio.
2. Click on the Task on your Home page or in the Tasks page.

3. The task description will show here. Please note that this document is KBA enabled. Click on the link that says: "Click here to review and sign..."
4. This link will open the KBA first. Type in your
First Name
Last Name
Address

5. Check the box next to "I agree..." and click OK.
6. The KBA will give you four questions to answer that will verify your identity. You will have four attempts total. If you are unable to answer the questions correctly after four attempts, you will fail the KBA and the document will be canceled (the firm will be notified).

7. Answer each question and click OK.
8. Once you have successfully answered the questions, you will be brought to your 8879. Scroll to the bottom of the browser and click Continue.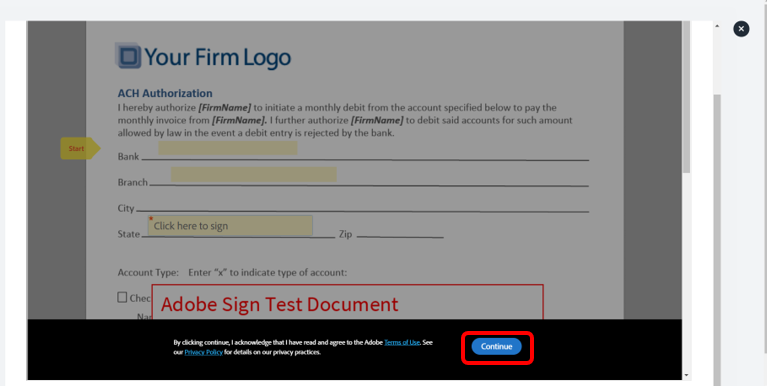 10. Click Click here to sign
11. Because your identity was verified using KBA, the system should bring in your signature automatically. Click Apply.

12. Click the blue Click to Sign button (at the very bottom of the document).

13. The document has now been sent to the firm for review and a signed copy is available in your Liscio Files Section.
To find the signed copy:

1. Click Files on your left-hand navigation.
2. Click on the signed copy at the top of your files list.